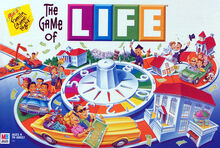 The Game of Life, also known simply as Life, is a board game originally created in 1860 by Milton Bradley, as The Checkered Game of Life. The Game of Life was America's first popular parlor game. The game simulates a person's travels through his or her life, from college to retirement, with jobs, marriage, and possible children along the way. Two to six players can participate in one game. Variations of the game accommodate eight to ten players.
Ad blocker interference detected!
Wikia is a free-to-use site that makes money from advertising. We have a modified experience for viewers using ad blockers

Wikia is not accessible if you've made further modifications. Remove the custom ad blocker rule(s) and the page will load as expected.