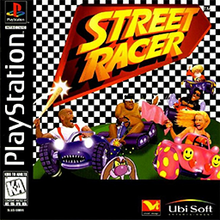 Street Racer is a racing video game published by Ubisoft for various systems. It was released for the Super Nintendo Entertainment System in 1994, Sega Mega Drive/Genesis in 1995, PlayStation, Sega Saturn and Game Boy in 1996 and PC and Amiga in 1997. Inspired by Mario Kart, the go-kart themed game combined racing with comedy and beat 'em up influenced violence. The game was a success on the SNES and Mega Drive and received mixed reviews across platforms.
Ad blocker interference detected!
Wikia is a free-to-use site that makes money from advertising. We have a modified experience for viewers using ad blockers

Wikia is not accessible if you've made further modifications. Remove the custom ad blocker rule(s) and the page will load as expected.