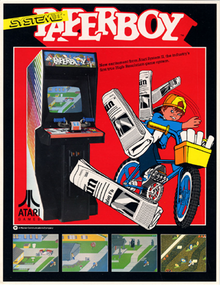 Paperboy is a 1985 arcade game by Atari Games originally developed in 1984 . The players take the role of a paperboy who delivers newspapers along a suburban street on his bicycle. The game was ported to numerous video game consoles and personal computers. The Nintendo Entertainment System (NES) version represented the first NES game developed in the United States and coincidentally, the Sega Master System version represented the first SMS game developed in the United Kingdom. Paperboy was innovative for its theme and novel controls.
Ad blocker interference detected!
Wikia is a free-to-use site that makes money from advertising. We have a modified experience for viewers using ad blockers

Wikia is not accessible if you've made further modifications. Remove the custom ad blocker rule(s) and the page will load as expected.