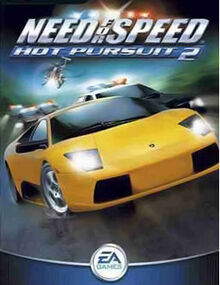 Need for Speed: Hot Pursuit 2 is a 2002 racing video game, serving as the debut Need for Speed title from EA Black Box, and the first Need for Speed game for the sixth generation of consoles. It is the sixth installment in the Need for Speed series and is the sequel to the 1998 racing game Need for Speed III: Hot Pursuit. It is also the last Need for Speed game of the series' first era, as the following game would reboot the series to focus on the tuner culture. In 2002, the game was awarded "Console Racing Game of the Year" at the 6th Annual Interactive Achievement Awards. Like Porsche Unleashed before it, Hot Pursuit 2 was not released in Japan.
Ad blocker interference detected!
Wikia is a free-to-use site that makes money from advertising. We have a modified experience for viewers using ad blockers

Wikia is not accessible if you've made further modifications. Remove the custom ad blocker rule(s) and the page will load as expected.