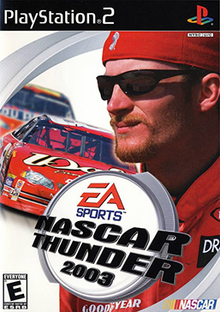 NASCAR Thunder 2003 is the sixth edition of the EA Sports' NASCAR racing simulator series. Developed by EA Sports and Budcat Creations and published by Electronic Arts, it was released for PlayStation, Xbox and Nintendo GameCube on September 19, 2002, then for PlayStation 2 on September 29 and for PC on October 16. The product features Dale Earnhardt, Jr. on the cover. It was the first time the NASCAR's Most Popular Driver Award recipient was featured on the cover, although he did not win the award for the first time until the following year. Dale Earnhardt appeared in the game as a driver as a result of entering his name as a Create-A-Car driver's name; he did not appear in the previous game due to his death. He appeared as a legend in subsequent games.
Ad blocker interference detected!
Wikia is a free-to-use site that makes money from advertising. We have a modified experience for viewers using ad blockers

Wikia is not accessible if you've made further modifications. Remove the custom ad blocker rule(s) and the page will load as expected.