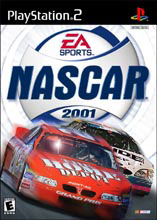 NASCAR 2001 is a racing simulator video game developed and published by EA Sports. The game was released on October 30, 2000 for the Sony PlayStation, and became the first from EA Sports' NASCAR series to be released for the Sony PlayStation 2 on November 6, 2000. NASCAR 2001 was the fourth game in the NASCAR series.
NASCAR 2001 was the final game that featured Dale Earnhardt as a regular full-time driver, prior to his death in the 2001 Daytona 500 (which would reappear in NASCAR SimRacing with his 1999 car and in NASCAR 07 as an unlockable Chase Plate and Earnhardt appears in NASCAR Thunder 2003 as the result of a cheat code). Johnny Benson is also absent in this game, while it was the first NASCAR game to include Jimmy Spencer, Jerry Nadeau, and Elliott Sadler. The drivers Michael Waltrip, Kenny Irwin Jr., Richard Petty and Adam Petty do not participate in any of the races as a computer opponent, instead the player must be the driver.
Ad blocker interference detected!
Wikia is a free-to-use site that makes money from advertising. We have a modified experience for viewers using ad blockers

Wikia is not accessible if you've made further modifications. Remove the custom ad blocker rule(s) and the page will load as expected.