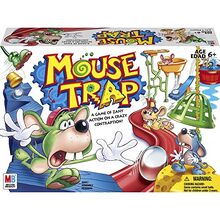 Mouse Trap (originally titled Mouse Trap Game) is a board game first published by Ideal in 1963 for 2 to 4 players. The game was one of the first mass-produced, three-dimensional board games. Over the course of the game, players at first cooperate to build a working Rube Goldberg-like mouse trap. Once the mouse trap has been built, players turn against each other, attempting to trap opponents' mouse-shaped game pieces.
Ad blocker interference detected!
Wikia is a free-to-use site that makes money from advertising. We have a modified experience for viewers using ad blockers

Wikia is not accessible if you've made further modifications. Remove the custom ad blocker rule(s) and the page will load as expected.