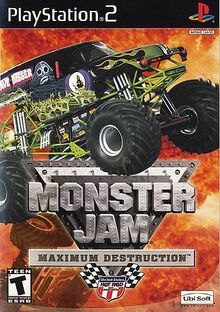 Monster Jam: Maximum Destruction is a video game of the vehicular combat genre released in 2002 by Unique Development Studios. The game is based on the USHRA Monster Jam series, and features several real life monster trucks including Grave Digger. Although it contains racing-based minigames, the primary focus is on the combat, which includes power-ups and weapons in addition to demolition derby style maneuvers.
Players can choose between Exhibitions, Mini Games and Seasons. Exhibitions are either Death Matches, where the match will only go until there is one truck standing; Cash Grab is where the player collects most of the power ups, with a certain number based on the difficulty played on by the end of three minutes; players can also try to collect the most money for damage (which are considered points) in Points mode with a certain number based on the difficulty by the end of three minutes.
Ad blocker interference detected!
Wikia is a free-to-use site that makes money from advertising. We have a modified experience for viewers using ad blockers

Wikia is not accessible if you've made further modifications. Remove the custom ad blocker rule(s) and the page will load as expected.