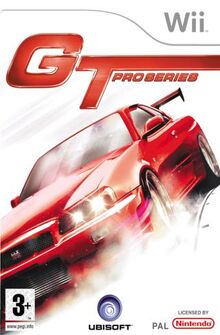 GT Pro Series is a franchise developed by MTO and published by Ubisoft as a launch title for Wii. It includes over 80 licensed Japanese cars, next-gen physics and many gameplay modes, including Championship, Quick Race, Time Attack, Versus (4 players), Drift, and Replay. Graphically, the game uses a cel-shaded style.
Critics have noted that the graphics are generally underwhelming, according to IGN this is because the visuals are largely ported from the older GameCube game GT Cube with minor updates. GT Cube was released in Japan in 2003 for the Nintendo GameCube.
Ad blocker interference detected!
Wikia is a free-to-use site that makes money from advertising. We have a modified experience for viewers using ad blockers

Wikia is not accessible if you've made further modifications. Remove the custom ad blocker rule(s) and the page will load as expected.