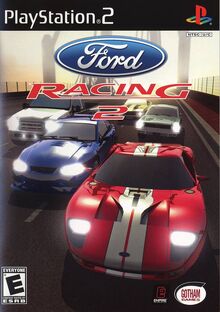 Ford Racing 2 is the second game in the Ford Racing series and was released on October 28, 2003 for the PlayStation 2, PC, and Xbox. It was released for the Mac OS X in October 2004 by Feral Interactive.The sequel includes 30 Ford cars, 16 racing tracks, the ability to race head-to-head, over 30 challenges and other features. It is the successor to Ford Racing and precedes Ford Racing 3.
In Ford Racing 2, the player plays as various cars and trucks made by the Ford Motor Company (although some have been altered a bit in terms of shapes) through various challenges and races. Each car has a different challenge, when the player has beaten the challenge with a particular car, the challenge, car and track will be unlocked to play as in the Ford Collection mode which allows players to create their own races and challenges with which car and track. Depending on the difficulty easy, medium or hard, the player can choose the maximum difficulty of the challenge. For example, if you unlocked a car on easy difficulty the challenges and races could only be on easy whereas if you unlocked a car on medium difficulty you could choose the challenge to be on easy or medium.
Ad blocker interference detected!
Wikia is a free-to-use site that makes money from advertising. We have a modified experience for viewers using ad blockers

Wikia is not accessible if you've made further modifications. Remove the custom ad blocker rule(s) and the page will load as expected.