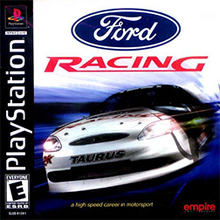 Ford Racing, the first game in the Ford Racing series, was released on March 6, 2001 for the PlayStation, PC and the Arcade. The Mac OS X version of the game was released in October 2004 by Feral Interactive. The PlayStation Network version of the game was released on May 20, 2009. The game features 12 Ford cars from both the United States and Europe lines and 8 Tracks on which the 12 cars can race. The game features a career mode with several different types of races and the ability to upgrade the cars with various upgrades.
Ad blocker interference detected!
Wikia is a free-to-use site that makes money from advertising. We have a modified experience for viewers using ad blockers

Wikia is not accessible if you've made further modifications. Remove the custom ad blocker rule(s) and the page will load as expected.